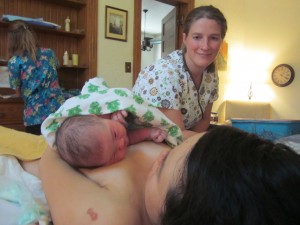 Gain the practical skills and knowledge to become an exceptional midwife while training at our birth centers located in Lehi, Utah and Provo, Utah. Typically, Birthing Your Way students stay with us anywhere from 1-6 months, learning from and working with dedicated and experienced midwives.

Our current birth volume is approximately 12+ births per month.  Although we cannot guarantee any certain number of primary or secondary births, we design our schedule so that students get as much experience as possible. When working with Birthing Your Way midwives, you will work in the role or level that you have applied for, and occasionally an intern (primary) student may be asked to attend a birth as as an assistant.

We expect you to attend all births that you are called to no matter the role you will take. In order to ensure the highest quality of care for our clients we limit how many students can apprentice with us at any one time. We also match your skill level to the needs of the client.
*Please be aware that the laboring mother has a right to refuse anyone at her birth at any time.

Birthing Your Way Student Midwife Tracks

We have three tracks to choose from – Assistant Midwife (Assist/Secondary), Intern Midwife (Primary Attendant), and Doula (observer). For current openings, contact us.

We will help you in determining which track is right for you.

Assistant Midwife
Students should not expect to catch any babies, but instead focus on learning skills including:

Labor support (doula)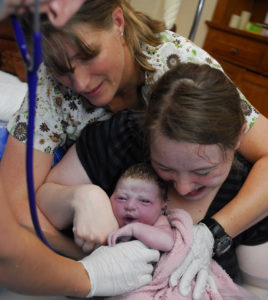 Charting
Birth set-up
Office work
Oxygen set-up
Prenatal appointments
Postpartum appointments
Newborn exams
Equivalent to NARM phase 2
Minimums needed for acceptance:

All prerequisites completed (See Requirements)
Completion of skills assessment by Birthing Your Way midwives
Intern Midwife
Students can expect to attend births as a primary under supervision as well as obtain some possible continuity of care clients if the student's stay is long enough. They will refine the Assistant Midwife skills listed above and they will also learn (circumstances permitting):

Suturing
Catching
Decision making
Placenta delivery
Equivalent to NARM phase 3
Minimums needed for acceptance:

All prerequisites completed (See Requirements)
Completion of NARM's Phase 2/assistant attendant requirements (additional assist births beyond NARM requirements may be necessary and is dependent on the student's skill level)
Satisfactory completion of our Advanced Skills written test and skills assessment by Birthing Your Way midwives
Completion of at least 3 weeks as Assistant midwife at Birthing Your Way
Placement in Intern/Primary is by invitation only

Doula
Student should not expect to catch any babies or perform any clinical skills on clients, but instead will observe and provide labor support as needed; they may also assist prenatals and postpartums when possible.  This role is ideal for new student midwives who are just starting out.  This role is equivalent to NARM phase 1.

Minimums for acceptance:  Doula Training, CBE Class, BF Class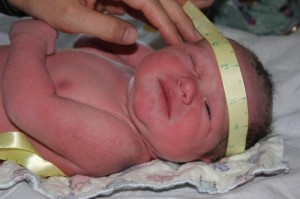 Schedule

Students will attend:

Weekly prenatal and postpartum appointments Monday-Friday as scheduled.
Postpartum home visits – can occur on any day of the week
Births – students will be on-call 24/7
Months with unusually high birth volume may require two primary students. In this case each primary student will attend only a portion of the births.  Please know that our program is not about the numbers – our focus is on creating competent, skilled midwives.  We believe that over working students by making them attend births to the point of complete exhaustion is not the best way to train.
If a student should need any time off, arrangements with the midwife must be made at least 2 weeks in advance. Five hours each month, outside of prenatal hours, must be spent in the office helping with office work or other midwifery or birth center related work.

Testimonials

"Dear Heather, thank you for the opportunity to work with you as a student in your practice.  My time with Birthing Your Way was a wonderful experience for me.  I learned so much from you that I know will prove valuable to me in my practice.  I feel that my time and money were definitely well spent for the experience I gained.  The clinical experiences I acquired during my time with you have enabled me to meet the requirements I desperately needed for NARM, and I am now able to watch my dreams of being a midwife become a reality.  Thank you again." ~ Kate
For More Information:
National Association of Certified Professional Midwives
The American College of Nurse Midwives
North American Registry of Midwives
National College of Midwifery